Remote Training Courses
Benefits | Pre-requisites | Courses
Capita appreciate that it is not always possible to bring staff together into the same room at the same time in order to receive training. To enable you to provide continual professional development to your colleagues, Capita have devised a range of remote training courses to enable you to receive training flexibly, cost effectively and from a location suitable to you.
You can book up to 4 delegates per session by contacting your One Account Management Team on:
Tel – 0161 274 8143
Email – OneAccountManagement@capita.com
Benefits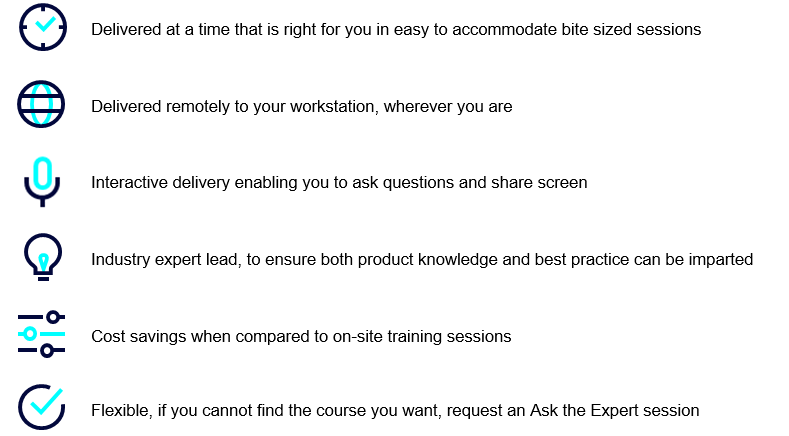 Pre-Requisites

Courses
This table lists all the remote training course.  You can also download a Training Course Catalogue.
| Training Areas | Course | Intended For | training_area_hfilter | intended_for_hfilter |
| --- | --- | --- | --- | --- |
| Admissions and Transfers | GIS within A&T | Admissions Managers, Admissions Team Members, One Support Staff | admissions-and-transfers | admissions-managers admissions-team-members one-support-staff |
| B2B | B2B New User Overview | Data Officers | b2b | data-officers |
| Admissions and Transfers | Reporting on Admissions (Better Letters with Crystal) | Report Writers for One Admissions | admissions-and-transfers | report-writers-for-one-admissions |
| Ask the Expert | Ask the Expert | All staff | ask-the-expert | all-staff |
| Admissions and Transfers | A&T Importing Online Applications | Admissions Team Members, One Support Staff | admissions-and-transfers | admissions-team-members one-support-staff |
| Admissions and Transfers | Inter LA file Exchange Workshop | Admissions Managers, Admissions Team Members, One Support Staff | admissions-and-transfers | admissions-managers admissions-team-members one-support-staff |
| Admissions and Transfers | A&T Schools Portal | Admissions Managers, Admissions Team Members, One Support Staff | admissions-and-transfers | admissions-managers admissions-team-members one-support-staff |
| Admissions and Transfers | A&T New User Overview | Admissions Managers, Admissions Team Members, One Support Staff | admissions-and-transfers | admissions-managers admissions-team-members one-support-staff |
| Admissions and Transfers | Citizen Portal Best Practice for Phased Admissions | Admissions Team Members, One Support Staff | admissions-and-transfers | admissions-team-members one-support-staff |
| Admissions and Transfers | In Year Transfer Group Setup and Processing | One Support Staff, Senior admissions staff | admissions-and-transfers | one-support-staff senior-admissions-staff |
| Admissions and Transfers | Admissions End of Transfer Phase | One Support Staff, Senior admissions staff | admissions-and-transfers | one-support-staff senior-admissions-staff |
| Admissions and Transfers | Managing In Year Applications with the Citizen Portal | Admissions Managers, One Support Staff | admissions-and-transfers | admissions-managers one-support-staff |
| Attainment Data | Attainment Data in One | Data Officers, Performance Officers | attainment-data | data-officers performance-officers |
| B2B | Scheduled Tasks for Attainment Data | Attainment Officers, Data Officers, ONE IT Support | b2b | attainment-officers data-officers one-it-support |
| B2B | Address Management with WAV (Web Address Validation) | Data Officers, ONE IT Support, SIMS Officers | b2b | data-officers one-it-support sims-officers |
| Children in Entertainment & Employment | Children in Entertainment & Employment New User Overview | Data Officers | children-in-entertainment-employment | data-officers |
| Children's Support Services (CSS) | Creating a CSS Service | LA Childrens Services, One Support Staff, Performance Monitoring and Reporting Officers | childrens-support-services-css | la-childrens-services one-support-staff performance-monitoring-and-reporting-officers |
| Children's Support Services (CSS) | Introduction to Activities | One Coordinators, One Support Staff, Senior CSS users | childrens-support-services-css | one-coordinators one-support-staff senior-css-users |
| Early Years | Better Start Overview | Better Start Data Collection Team, One Support Staff, Performance Monitoring and Reporting Officers | early-years | better-start-data-collection-team one-support-staff performance-monitoring-and-reporting-officers |
| Early Years | Early Years Finances | Early Years Team, One Support Staff, Performance Monitoring and Reporting Officers | early-years | early-years-team one-support-staff performance-monitoring-and-reporting-officers |
| Early Years | eStart Advanced Features | One eStart support staff, Performance Monitoring and Reporting Officers | early-years | one-estart-support-staff performance-monitoring-and-reporting-officers |
| Early Years | eStart Flexible Reporting | One eStart support staff, Performance Monitoring and Reporting Officers | early-years | one-estart-support-staff performance-monitoring-and-reporting-officers |
| Early Years | Headcount Portal Administration | One Early Years Administrators | early-years | one-early-years-administrators |
| Early Years | Pupil Premium | Early Years Team, One Support Staff, Performance Monitoring and Reporting Officers | early-years | early-years-team one-support-staff performance-monitoring-and-reporting-officers |
| Early Years | Self Update Provider Portal | Early Years Team, FID Team, One Support Staff, Performance Monitoring and Reporting Officers | early-years | early-years-team fid-team one-support-staff performance-monitoring-and-reporting-officers |
| Governors | Governors New Users Overview | Data Officers | governors | data-officers |
| Grants and Benefits | Grants and Benefits New User Overview | Data Officers | grants-and-benefits | data-officers |
| Grants and Benefits | Eligibility Checking Services | Data Officers, ONE IT Support | grants-and-benefits | data-officers one-it-support |
| Integrated Youth Support Services | An Introduction to IYSS | All staff | integrated-youth-support-services | all-staff |
| Integrated Youth Support Services | An Introduction to IYSS System Admin | Local System Administrators, One Support Staff | integrated-youth-support-services | local-system-administrators one-support-staff |
| Integrated Youth Support Services | NCCIS Monthly Submissions | Local System Administrators, One IYSS Service Managers, One IYSS Team Members, One Support Staff | integrated-youth-support-services | local-system-administrators one-iyss-service-managers one-iyss-team-members one-support-staff |
| Integrated Youth Support Services | Annual Activity Survey | Local Report Writers, Local System Administrators, One IYSS Service Managers, One IYSS Team Members, One Support Staff | integrated-youth-support-services | local-report-writers local-system-administrators one-iyss-service-managers one-iyss-team-members one-support-staff |
| Integrated Youth Support Services | September Guarantee | Local Report Writers, Local System Administrators, One IYSS Service Managers, One IYSS Team Members, One Support Staff | integrated-youth-support-services | local-report-writers local-system-administrators one-iyss-service-managers one-iyss-team-members one-support-staff |
| Integrated Youth Support Services | Data Orientation & Crystal Basics | Local Report Writers, Local System Administrators, One Support Staff | integrated-youth-support-services | local-report-writers local-system-administrators one-support-staff |
| Integrated Youth Support Services | Managing Interactions | Local System Administrators, One IYSS Team Members, One Support Staff | integrated-youth-support-services | local-system-administrators one-iyss-team-members one-support-staff |
| Integrated Youth Support Services | Imports & Bulk Updates | Local System Administrators, One IYSS Service Managers, One IYSS Team Members, One Support Staff | integrated-youth-support-services | local-system-administrators one-iyss-service-managers one-iyss-team-members one-support-staff |
| Integrated Youth Support Services | Enhanced Assessments | Local System Administrators, One IYSS Service Managers, One IYSS Team Members, One Support Staff | integrated-youth-support-services | local-system-administrators one-iyss-service-managers one-iyss-team-members one-support-staff |
| Reporting | Crystal for Beginners | One Support Staff, Performance Monitoring and Reporting Officers | reporting | one-support-staff performance-monitoring-and-reporting-officers |
| Reporting | Crystal for Intermediates | One Support Staff, Performance Monitoring and Reporting Officers | reporting | one-support-staff performance-monitoring-and-reporting-officers |
| Reporting | SQL Basics Agenda | One Support Staff, Performance Monitoring and Reporting Officers | reporting | one-support-staff performance-monitoring-and-reporting-officers |
| Reporting | SQL Intermediate | One Support Staff, Performance Monitoring and Reporting Officers | reporting | one-support-staff performance-monitoring-and-reporting-officers |
| Reporting | SSRS Basics | One Support Staff, Performance Monitoring and Reporting Officers | reporting | one-support-staff performance-monitoring-and-reporting-officers |
| Reporting | SSRS Intermediate | Performance Officers | reporting | performance-officers |
| Reporting | Reporting on Children's Support Services involvements | One Support Staff, Performance Monitoring and Reporting Officers | reporting | one-support-staff performance-monitoring-and-reporting-officers |
| Reporting | Reporting on Addresses | Address Administrators | reporting | address-administrators |
| Reporting | Reporting on Governors | One Support Staff, Performance Monitoring and Reporting Officers | reporting | one-support-staff performance-monitoring-and-reporting-officers |
| Reporting | Reporting on Timelines | CSS and SEN users | reporting | css-and-sen-users |
| Reporting | Reporting on Vulnerable Groups | One Support Staff, Performance Monitoring and Reporting Officers | reporting | one-support-staff performance-monitoring-and-reporting-officers |
| SEND | Streamlining Processes with Timelines and Quick Reports | One Support Staff, SEND Staff | send | one-support-staff send-staff |
| Youth Justice | An Introduction to YJ | All staff | youth-justice | all-staff |
| Integrated Youth Support Services, Youth Justice | An Introduction to IYSS/YJ System Admin | Local System Administrators, One Support Staff | integrated-youth-support-services youth-justice | local-system-administrators one-support-staff |
| Youth Justice | Getting the best out of YJ | Local System Administrators, One Support Staff, One YJ Service Managers, One YJ Team Members | youth-justice | local-system-administrators one-support-staff one-yj-service-managers one-yj-team-members |
| Youth Justice | Out of Court / Court Inputting & Interventions | One YJ Service Managers, One YJ Team Members | youth-justice | one-yj-service-managers one-yj-team-members |
| Youth Justice | An Introduction to ASSETPlus | One YJ Service Managers, One YJ Team Members | youth-justice | one-yj-service-managers one-yj-team-members |
| Youth Justice | Victim Recording | Local System Administrators, One Support Staff, One YJ Service Managers, One YJ Team Members, Victim Support Staff | youth-justice | local-system-administrators one-support-staff one-yj-service-managers one-yj-team-members victim-support-staff |
| Youth Justice | Parent Recording | Local System Administrators, One Support Staff, One YJ Service Managers, One YJ Team Members, Parenting Support Staff | youth-justice | local-system-administrators one-support-staff one-yj-service-managers one-yj-team-members parenting-support-staff |
| Youth Justice | Managing Events & YJ Breach Process | Local System Administrators, One Support Staff, One YJ Service Managers, One YJ Team Members | youth-justice | local-system-administrators one-support-staff one-yj-service-managers one-yj-team-members |
| Youth Justice | YJB Quarterly Returns | Local Report Writers, Local System Administrators, One Support Staff, One YJ Service Managers, One YJ Team Members | youth-justice | local-report-writers local-system-administrators one-support-staff one-yj-service-managers one-yj-team-members |
| Youth Justice | Case Transfers | Local System Administrators, One Support Staff, One YJ Service Managers, One YJ Team Members | youth-justice | local-system-administrators one-support-staff one-yj-service-managers one-yj-team-members |